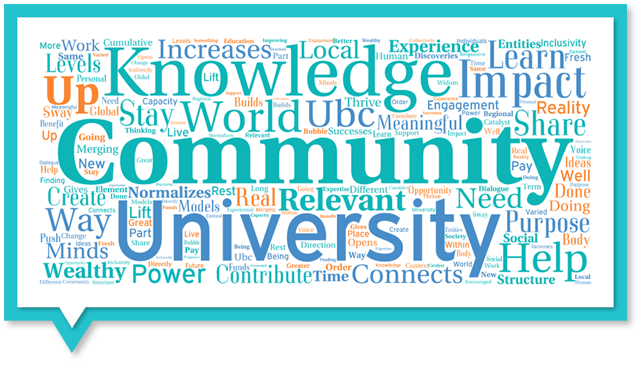 What We're Hearing
Discussions, brown bag lunches, initiatives, interactive displays and fairs have all contributed to emerging themes around why community engagement is important for UBC, principles, and recommended actions. There is an open door for further engagement.
We have asked many people why they value community-university engagement. The following statements are based on what we have heard to date. For an expanded pdf version, see
---
Why do you value community-university engagement?
So far themes we've heard are…
---
What shared principles can we agree on to guide community-university engagement?
Many university and community groups have established principles to guide their engagement activities. Learning from what exists, there is an opportunity to build a common set of overarching principles to inform community engagement at UBC.
Some of the principles we've heard to date include:
---
What one thing would strengthen how UBC engages with communities?
Activities large and small will build UBC's culture of community engagement. We have heard many ideas for what those activities might be.
One priority area so far is making UBC more accessible to communities. There are many ways that can happen, including: